AMAZFIT SMART WATCH GTS 2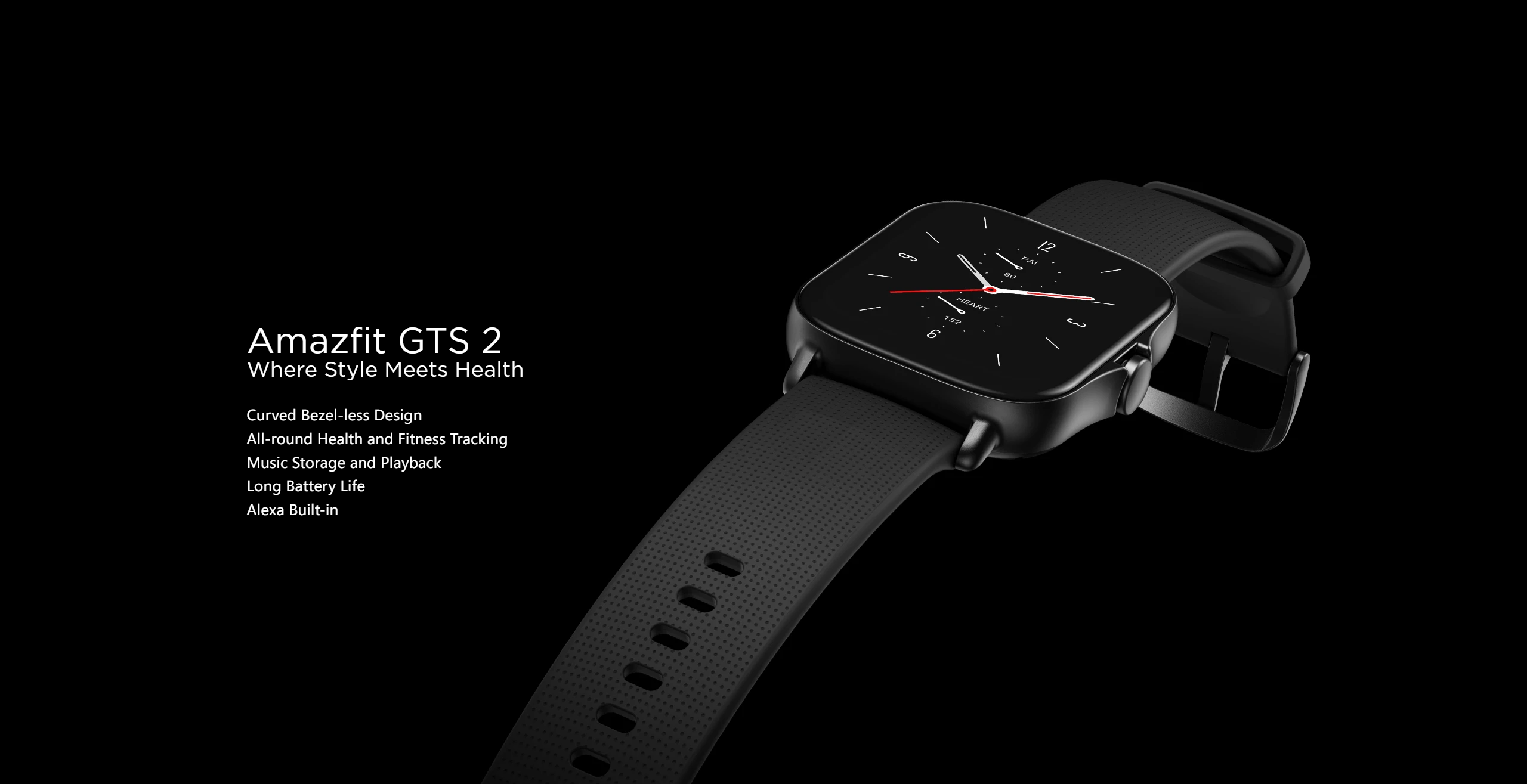 Description:
Upgrade your wrist game with the Amazfit GTS 2 smartwatch. Packed with advanced features and sleek design, this smartwatch is your ultimate companion for fitness tracking, health monitoring, and staying connected on the go. Whether you're a fitness enthusiast, a tech lover, or someone who values style and functionality, the Amazfit GTS 2 is the perfect fit for you.
Key Features:
Crystal Clear Display: Enjoy a vibrant and clear 1.65-inch AMOLED display that brings your notifications and fitness data to life.

Comprehensive Fitness Tracking: Track your workouts, monitor your heart rate, count your steps, and analyze your sleep patterns with built-in sensors and advanced algorithms.

Built-in GPS: Leave your phone behind and track your outdoor activities accurately with the built-in GPS of the Amazfit GTS 2.

Personal Assistant on Your Wrist: Receive notifications for calls, messages, emails, and various apps so you never miss an important update.

Long Battery Life: With up to 7 days of battery life, the Amazfit GTS 2 keeps up with your active lifestyle without frequent charging.

Stylish Design: The slim and lightweight design with customizable watch faces allows you to express your personal style effortlessly.
Certainly! Here's some additional information about the Amazfit GTS 2 smartwatch:
Health and Fitness Tracking: The Amazfit GTS 2 is equipped with advanced sensors to track your health and fitness activities accurately. It can monitor your heart rate, track your sleep quality, measure blood-oxygen saturation levels (SpO2), and provide insights into your overall well-being.

Sports Modes: With over 90 built-in sports modes, the Amazfit GTS 2 caters to a wide range of activities. Whether you're running, cycling, swimming, or practicing yoga, this smartwatch can automatically detect and track your chosen exercise, providing valuable data and metrics.

Music and Bluetooth Connectivity: Sync your favorite music to the Amazfit GTS 2 and listen to it wirelessly using Bluetooth headphones. Enjoy your workout or daily activities with your favorite tunes without needing to carry your smartphone.

Voice Control: The Amazfit GTS 2 features built-in voice control, allowing you to interact with your smartwatch using voice commands. Access important information, check the weather, set reminders, and control your smart home devices, all with just your voice.

Water Resistance: With a 5 ATM water resistance rating, the Amazfit GTS 2 is suitable for swimming and water activities. You can track your swim metrics, including stroke count, SWOLF score, and more, making it an ideal companion for water enthusiasts.

Smart Notifications and Alarms: Stay connected on the go with smart notifications for calls, messages, emails, and other app alerts directly on your wrist. Set alarms, receive event reminders, and manage your schedule effortlessly.

Stress Monitoring: The Amazfit GTS 2 includes a stress monitoring feature that provides insights into your stress levels throughout the day. Use this information to manage and improve your overall well-being.

Customizable Watch Faces: Personalize your smartwatch with a variety of customizable watch faces to match your style and mood. Choose from a range of pre-installed designs or explore additional options through the Amazfit app.

Amazfit App: The Amazfit GTS 2 is supported by the Amazfit app, available for both iOS and Android devices. The app allows you to sync and analyze your fitness data, customize watch faces, and access additional features and settings for your smartwatch.