Marking a new trend in ultra-chic design and innovatively equipped for a superior, smarter audio experience, HUAWEI FreeBuds Lipstick offers a stunning makeover in beauty and sound.
5 Things to Love
Lipstick Design
Studio-Quality Sound
Comfort
Open-fit Noise Cancellation
Fashion out of the Box
Make a true fashion statement with the lipstick-design case, exquisitely crafted for a smooth, metallic touch that gives your music the showcase it deserves.
Dedicated to Luxury
Looking good takes dedication. The luxury-grade stainless-steel body is built upon 30 intricately engineered design processes and polished to an ultra-high level, producing a surface as smooth as a mirror. See beauty reflected with every look.
Stunningly Coordinated Colours
True fashion combines taste with boldness. Enjoy the classic combination of black and gold in the case, and open up to reveal the richly glamourous red earbuds, which take your breath away both visually and in audio.
The Scent of Romance
It takes unique style to truly encapsulate beauty. HUAWEI Free Buds Lipstick comes in a scented gift box, to recreate those beautifully romantic moments of your life and add that extra touch of pleasure.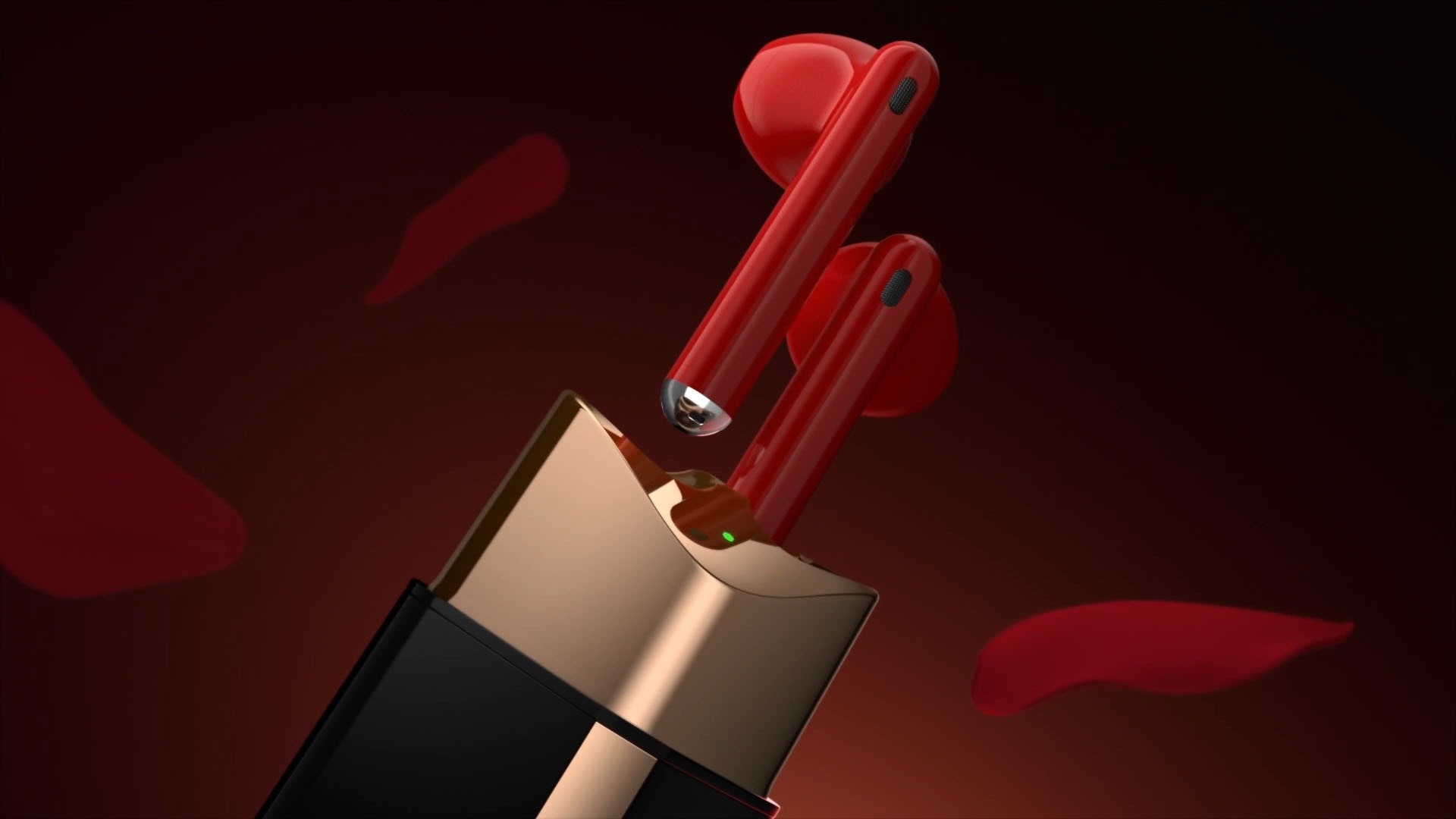 Exquisite Comfort, Excellent Sound
Studio-quality Sound
Hits the High Notes
The large 14.3 mm LCP dynamic driver inside each earbud is what helps HUAWEI FreeBuds Lipstick achieves an extraordinary sound quality. Boasting a frequency range of up to 40 kHz, they'll let you experience the soaring melodies and rich timbres of all your favourite tunes.
2
Let's Bass it
Better bass needs its own space. Each earbud is equipped with its own bass-enhancing power engine for greater diaphragm vibration, generating impressively deep bass you can really feel.
Sound that Fits Your Ears
For audio tailored just for you, HUAWEI FreeBuds Lipstick employs adaptive 
ear-matching 
technology to optimise sound quality based on the unique shape of your ears. Make sure your music always fits in with the way you love to hear.
Your Inner Peace of Music
Leading the field in open-fit active noise cancellation technology, HUAWEI FreeBuds Lipstick intelligently detects the shape of your inner ear and your unique wearing style. A customised noise cancellation effect is then applied, reducing the effect of low-frequency environmental noises with greater precision. Open up to a new world of more enjoyable listening.
Like Floating
on Air
The earbuds are ergonomically moulded to precisely fit your ear, for a shape that feels right every time. And at just 4.1 g each, they'll sit naturally and comfortably in your ears, offering an almost weightless way to deeply enjoy music.
3
Smart Audio Experience
Magnify Each Memory
with HD Recording
When you're recording your voice, you want it to sound as beautiful as possible. The high 48 kHz recording sampling rate
4
 picks up each aspect of your voice in crystal-clear detail, as Voice Mode turns down the volume on those distracting ambient sounds.
Play a Winning Game
With all-new game audio coding technology, HUAWEI FreeBuds Lipstick is able to reduce latency to an imperceptible 90 ms on EMUI phones, keeping the audio in lockstep with the action onscreen. Turn your favourite game into a 
multi-sensory
 triumph.
5
Intelligent Audio Connection
Smart Collaboration with Device+
With a simple tap, you can transfer video from your phone to a Huawei Vision, and the audio to HUAWEI FreeBuds Lipstick. Ensure that late night movies on the big screen are for your ears only.
6
Double Your Connections
Open the charging case to pair the earbuds with a nearby phone, tablet, or PC via an automatic pairing prompt. Plus, connect them to two devices simultaneously, for seamless, switchable listening.
7
*Representation of UI. Actual experience is subject to usage.
Sound Transfer
Connections
Just a Touch
Use your HUAWEI FreeBuds Lipstick to control how you listen to your music and take calls via simple, intuitive gesture controls that can be used on either earbud.
8
Big Power in a Small Package
ANC off
Music playback with fully charged case

9
22Hours
Music playback from fully charged earbuds

9
4Hours
ANC on
Music playback with fully charged case

9
14Hours
Music playback from fully charged earbuds

9
2.5Hours
Get AI Life for
Your HUAWEI FreeBuds
Download the Huawei AI Life app to manage noise cancellation and audio modes on HUAWEI FreeBuds Series. Use the Audio Connection Center (not available on iOS) to switch seamlessly between devices, plus other fun features.
Install Now 
The scent only remains on the package and fades over time.

Data from Huawei labs.

Data from Huawei labs. Weight varies according to version configuration. Actual weight may vary.

For both Live Mode and Voice Mode. Involves recording through the earphones, and needs to be manually initiated via the AI Life App. Only supported on certain Huawei smartphone models: HUAWEI Mate 40, HUAWEI Mateb40 Pro, HUAWEI Mate 40 Pro+, Porsche Design HUAWEI Mate 40 RS, HUAWEI Mate 40E, HUAWEI P40, HUAWEI P40 Pro, HUAWEI P40 Pro+, and HUAWEI Mate X2, which have been updated to EMUI 11 (or above). Only works with phone apps for photography, audio recording, short-video recording, or apps with a live streaming feature.

Data from Huawei Labs, obtained from testing HUAWEI Mate 40. Latency data is combined latency time of game, phone, and earbuds. Actual latency is dependent on the phone model, system version, game, game version, etc. Please refer to actual usage.

Only available on Huawei devices running EMUI 12 or above above, with Bluetooth and WLAN turned on, and logged in to a Huawei account. Need to upgrade Huawei Smart Screen to version 2.0.0.559 (SP1), which supports a camera, connected to the same LAN signal as the phone, and logged in to the same Huawei account.

Only available with Huawei mobile devices running EMUI 10 and above, and Huawei computers running computer manager 11.1.6.31 and above. If you have any questions about functionality, usage restrictions, supported models, etc. before or after purchase, please contact Huawei customer service.

You can customise swipe controls in the Huawei AI Life App. Actual functioning is subject to the interface display.

Data from Huawei labs, obtained under the following conditions: the earbuds or charging case is fully charged, 50% volume level, AAC mode enabled, 25 °C ambient temperature. Actual charging performance may vary depending on the volume level, sound source, presence of environmental interference, product features, and usage habits. Fast charging is only achievable when the earphones' battery level is relatively low.