Amazfit Bip U Pro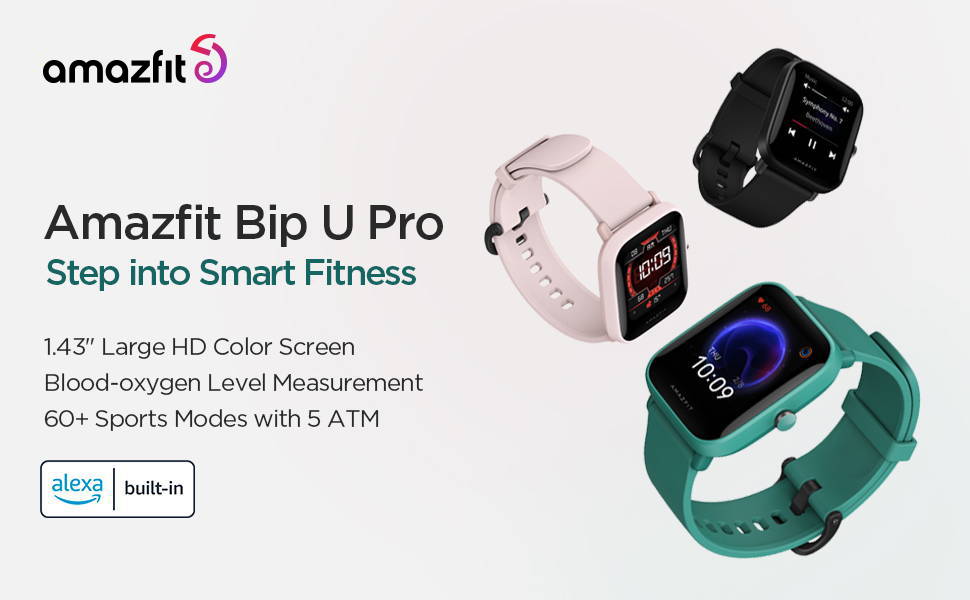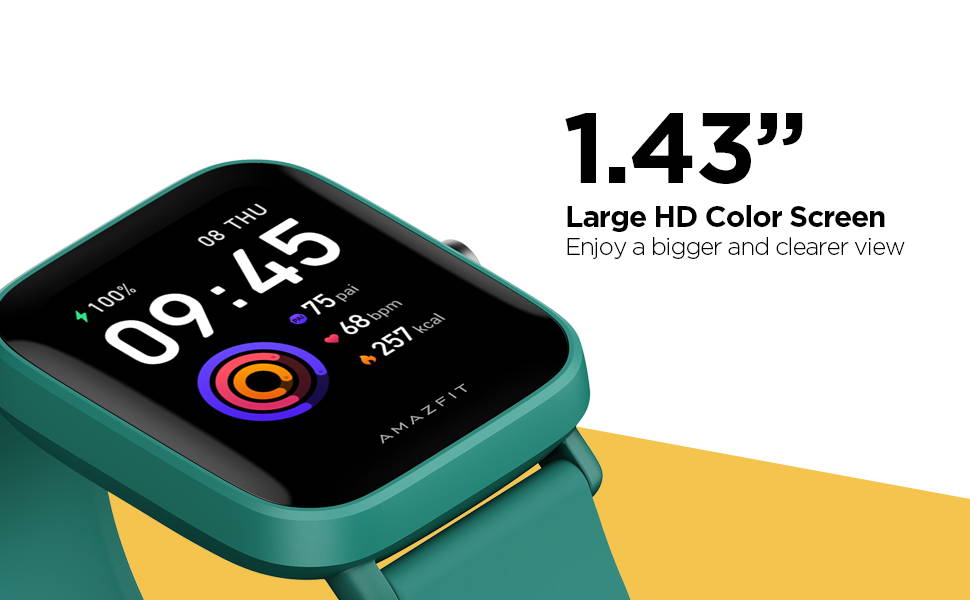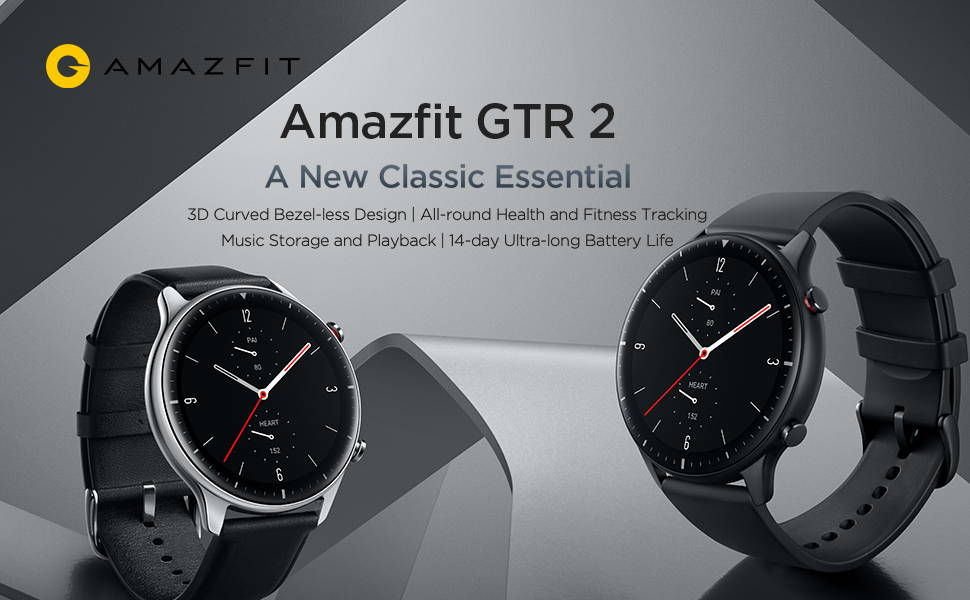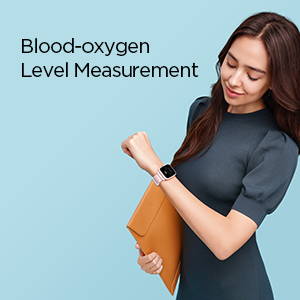 Blood-oxygen Level Measurement
This smart watch is equipped with a newly upgraded biological optical tracking sensor, the BioTrackerTM 2, that supports measurement of blood-oxygen saturation6.
When feeling unwell, under mental stress, engaged in intensive workouts such as marathons and gym sessions, or in high-altitude and hypoxic environments, you can immediately measure your blood-oxygen saturation and understand your physical state.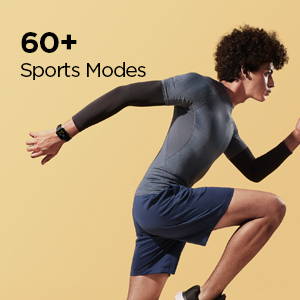 The Bip U helps you record your exercise data to help you work out at a higher level.
You can check your walking distance, speed, heart rate changes, calories burned, and other key factors such as whether you are exercising in your fat burning zone or cardiopulmonary strengthening zone based on your heart rate, as well as receiving instant alerts when your heart rate gets too high.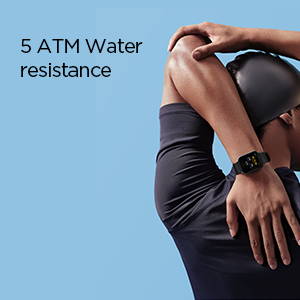 Water-resistant up to 50 meters(3), you can wear the Bip U for swimming and it will track your movements and record your achievements even under water.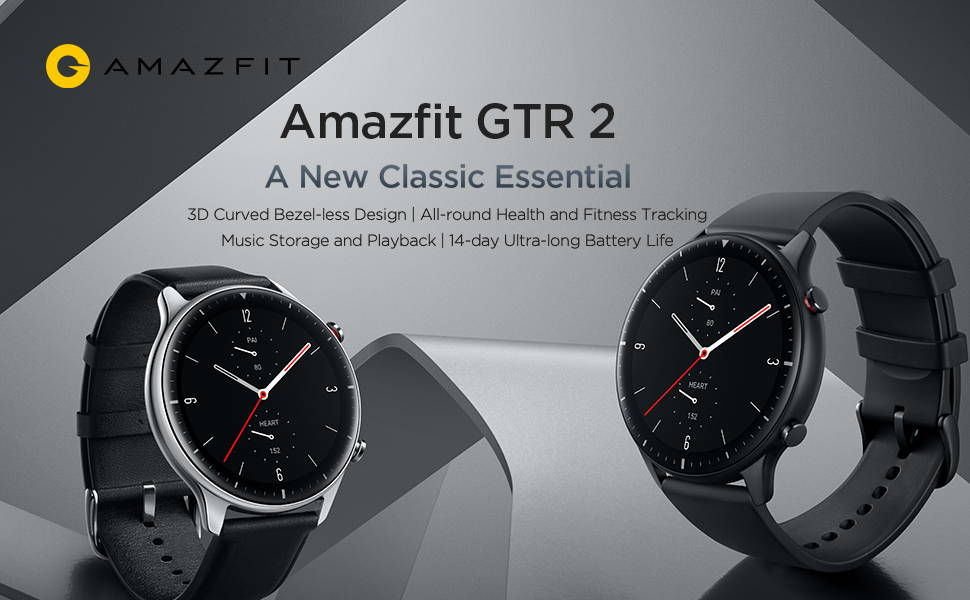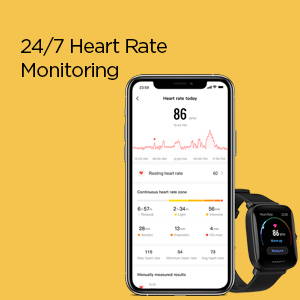 24/7 Heart Rate Monitoring
The Bip U can maintain continuous 24-hour heart rate monitoring(4). With its Huami-proprietary BioTrackerTM 2 PPG biological optical sensor, the Amazfit Bip U delivers accurate heart rate measurements.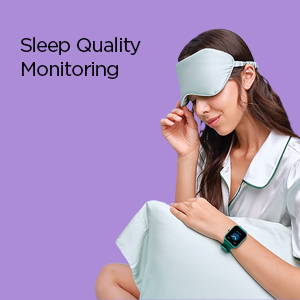 Accurately monitor your sleep stages, including those of deep sleep, light sleep, REM, awake time, and afternoon naps(5), and interpret the characteristics to provide you sleep quality score and insight.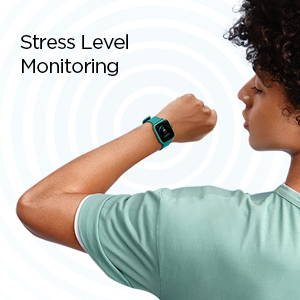 The watch supports stress monitoring and can provide breathing training to help balance your stress levels, so that you can instantly know when you need to rest and relax.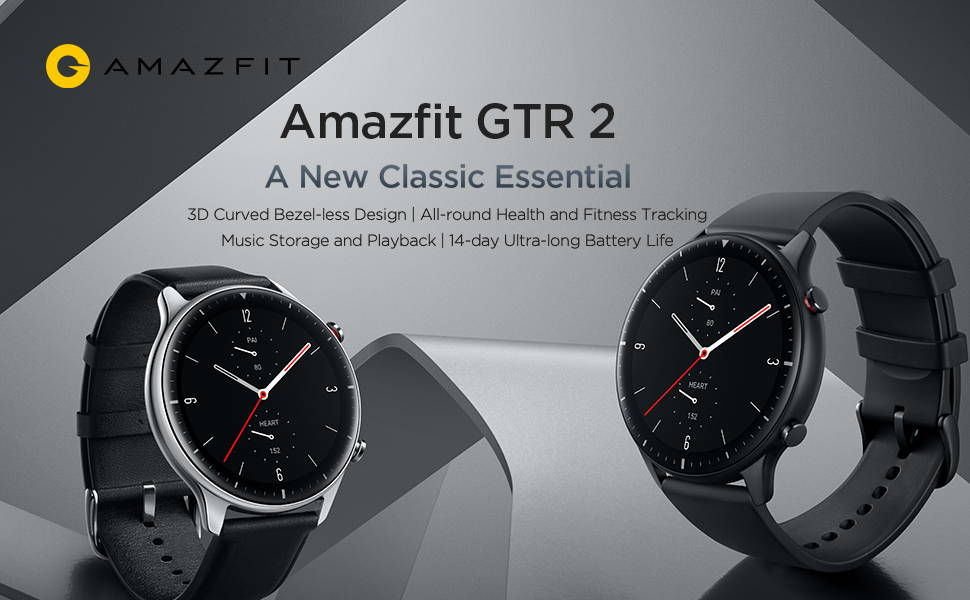 PAI™ Health Assessment System
PAI™ is a health evaluation system(7) that uses algorithms to transform complex information such as heart rate data, activity duration, and other health data into numerical values, and presents this data to users without being limited by the time, place, or form of exercise. It creates a customized health evaluation system for each user based on their unique health data, offering everyone a unique experience.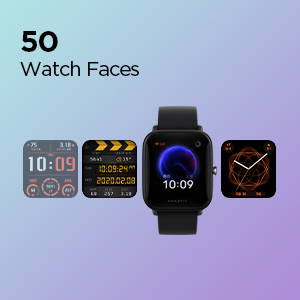 50 watch faces(1) are available to suit your mood and outfit, or you can upload your own photos for a more personalized watch face. The Bip U also supports animated watch faces that make every glance at your watch a unique experience.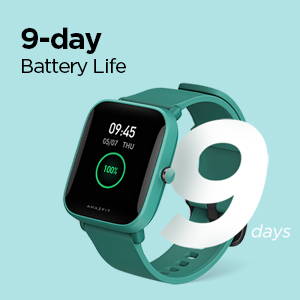 When fully-charged, you can relax and enjoy up to nine days(2) of activity and progress with typical usage, or up to five days(2) with heavy usage. Keep active with one less charger in your bag.
SpO2 level can affect the oxygen level to various organs. If the level is too low, it could lead to dizziness, headaches, or cardiac arrest. This product is not a medical device. The measurement data is intended for reference only and cannot be used to perform professional diagnosis or monitoring of any medical conditions. Additionally, data accuracy will be affected if the sensor area makes contact with skin that has arm-hair or tattoos, and can vary depending on physical characteristics. To measure SpO2, please keep your arm still.
Based on the ISO 22810:2010 standard, the watch delivers a water resistance level of up to 50 meters and has passed the test conducted by the BUREAU VERITAS CONSUMER PRODUCTS SERVICES. The report number is XRX-ESH-P20062078.
Only Amazfit Bip U Pro has built-in GPS; Amazfit Bip U supports connection with mobile phone GPS. Sports modes include: Ballet, Belly dance, Square dance, Street dance, Ballroom dance, Zumba, Outdoor running, Treadmill, Walking, Outdoor cycling, Indoor cycling, BMX, Core training, Rowing machine, Mixed aerobics, Strength training, Stretching, Stair-climbing machine, Pilates, Flexibility training, Indoor fitness, Stair stepper, Step training, Gymnastics, Elliptical, Yoga, Free training, Hunting, Fishing, Roller skating, Sailing, Skateboarding, Pool swimming, Open water swimming (Amazfit Pro only), Curling, Outdoor skating, Indoor skating, Cricket, Baseball, Bowling, Squash, Basketball, Softball, Gate ball, Volleyball, Table tennis, Handball, Badminton, Fencing, Karate, Boxing, Judo, Wrestling, Tai Chi, Muay Thai, Taekwondo, Martial arts, Kickboxing, Archery, Equestrianism, Jumping rope.
The typical usage refers to the following condition: Worn for consecutive 24-hour periods, heart-rate monitoring (data recorded every 10 minutes) and sleep monitoring are turned on, and SpO2 is measured twice a day. Every day, the screen turns on to display 50 messages, and the user raises the wrist 200 times to check the time. The user exercises 90 minutes every week. The heavy usage refers to the following condition: Worn for consecutive 24-hour periods, heart-rate monitoring (data recorded every 1 minute) and sleep monitoring are turned on, sleep breathing quality and all-day stress monitoring are enabled, and SpO2 is measured twice a day. Every day, the screen turns on to display 50 messages and is operated for 15 minutes, the user raises the wrist 100 times to check the time, and exercises 90 minutes every week. Note: The battery life may vary according to the settings, operation conditions and other factors. So the actual result may differ from the laboratory data.
Four built-in watch faces. You can replace two of the built-in watch faces from a selection of 50+ online watch faces in the Zepp App.
Only the two built-in faces support customizable modular.
To monitor the REM cycle, the Sleep Assistant heart rate tracking mode must be enabled. During REM sleep, your eyes move quickly in different directions. Dreams typically happen during REM sleep. Only naps that exceed 20 minutes can be monitored.
This product is not a medical device. All the measurement data and results are provided for reference only and cannot be used to perform professional diagnosis or monitoring of any medical conditions.
The Personal Activity Intelligence is a personal physiological activity indicator. Based on heart rate data, daily activity intensity, and multidimensional dynamic comprehensive evaluation of personal physiological data, it's converted into an intuitive PAI value using an algorithm to help you understand your physical condition without relying on single data. According to the HUNT Fitness Study research results, keeping your PAI value above 100 reduces the risk of death by cardiovascular disease and increases life expectancy. HUNT Fitness Study: This study, a sub-project of the HUNT study, was led by Professor Ulrik Wisloff from the Medical School of Norwegian University of Science and Technology. To use this function, all-day heart rate monitoring must be enabled.
Only Amazfit Bip U Pro supports Alexa. Alexa is not available in all countries/regions, To see the countries/regions availability, languages supported, as well as how to activate and use Alexa on your Amazfit Bip U Pro, please visit support.amazfit.com.
Statement .
The product images and screen contents on the pages above are for the purpose of illustration only. The actual product (including but not limited to appearance, color, size) and screen display contents (including but not limited to background, UI, and pictures) may be slightly different, so the actual product shall prevail.
The data on the pages above are theoretical values. All data, unless otherwise specified, is provided by internal laboratories or suppliers, and is obtained under specific test conditions. Actual use may vary slightly due to individual product differences, software versions, use conditions, and environmental factors, so actual usage data shall prevail.
To provide the most accurate product information, specifications, and product characteristics, our company may adjust and revise the text descriptions, images, and other content on the pages above at any time to match actual product performance, specifications, indexes, parts and other information. Because of real-time changes in product batches and production and supply factors, we will not specifically notify you in the event of the modifications and necessary adjustments described above.